With your euromsg express account, upload your list, create e-mail designs, set up your campaigns, send them to your list and measure the success of your campaigns with ease!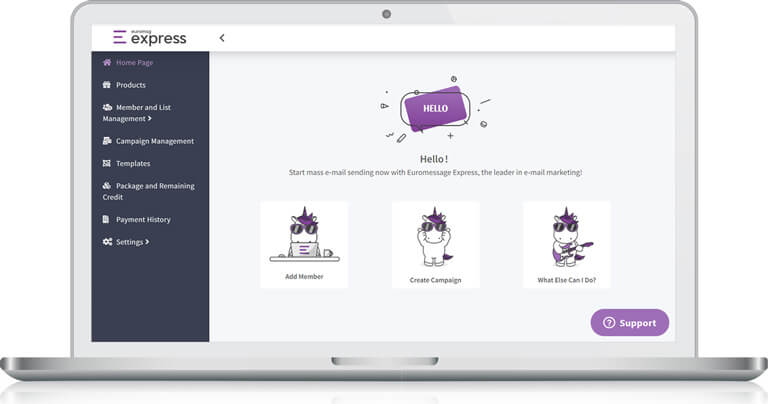 1. Create Your Account Instantly
euromsg express has been designed for you to use it easily without the need for a third party. In order to send your bulk e-mails quickly and securely, you can create your account instantly by filling in the e-mail address on the membership form and creating your password. In your euromsg express account, you can use either your individual e-mail address or your company e-mail address.
After creating your euromsg express account, you can easily create as many lists as you want via the "Member List Management" tab on the panel. You can add your members to your list either in a bulk or individually. You can name your lists, save them instantly, and also create a test list so that you can test your bulk e-mails before sending them. We've considered everything for your comfort!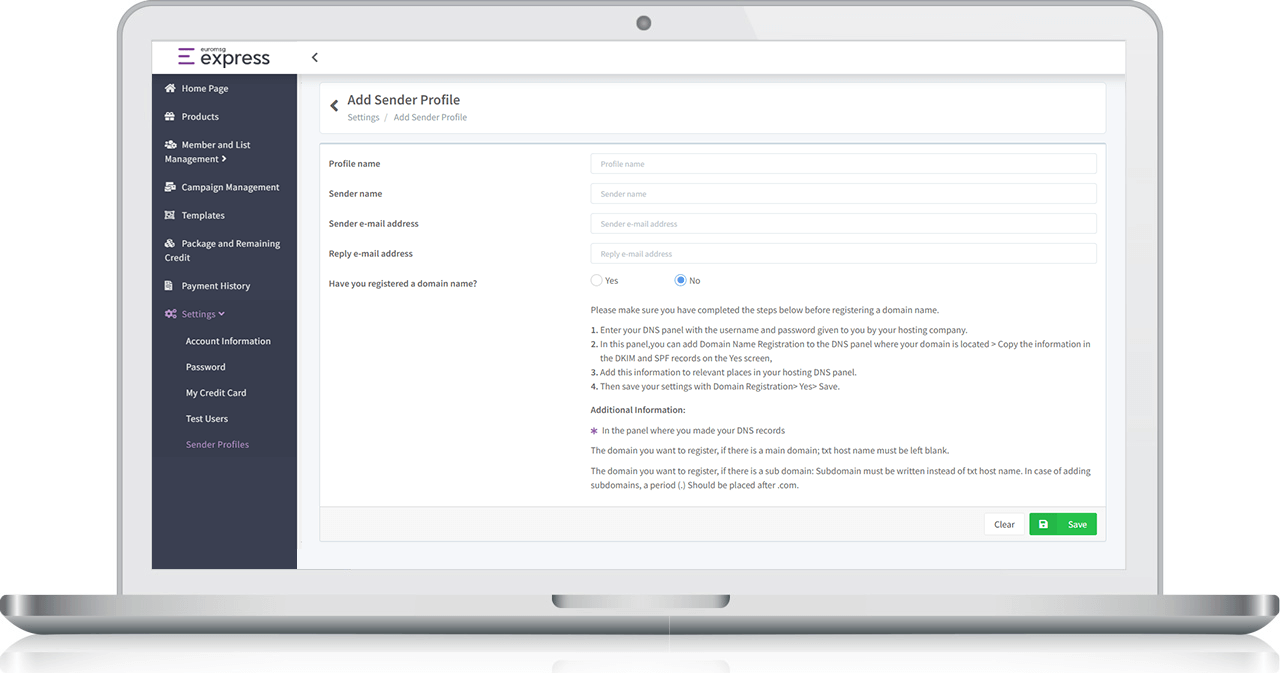 Grow your small or medium-sized business, increase your revenue. We are always here for you!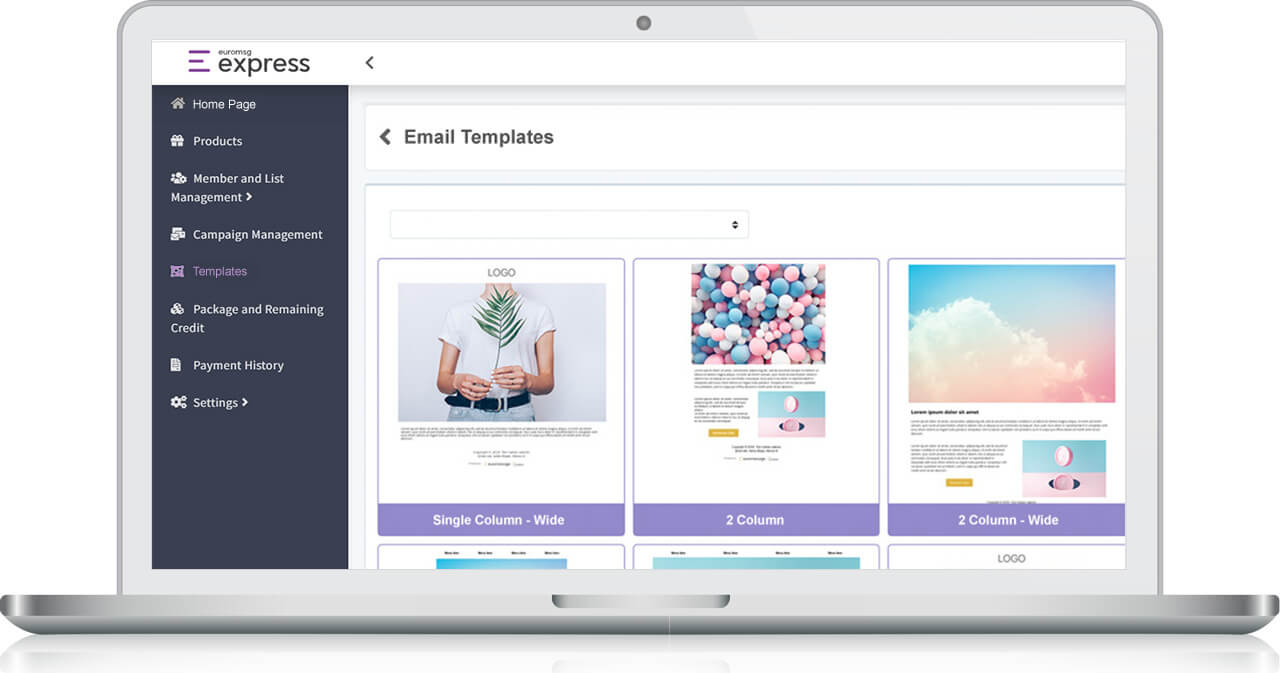 3. Choose a Ready-Made Template or Design It Yourself
It is very important for your e-mails to have an impressive design to attract the attention of the target audience. With euromsg express, you can create amazing designs yourself, there is no need for a design team. Using our drag and drop template wizard, you can add any HTML code, image, button, logo and text to your e-mail, and easily create unique designs in numerous colors and text styles. If you don't want to waste time, you can use ready-made templates that we have created for you, and deliver your e-mails with attractive designs to your audience.
4. Send Your Bulk E-mails
You have easily created the e-mail template with a professional design and impressive content. You can send your e-mail you created with euromsg express to your recipients without wasting any time. You can immediately send your bulk e-mails to the lists you have created, using the forms that include all the details, needed for your campaigns to be successful, from e-mail subject to subheading; from the sender's name to the button text suggestions.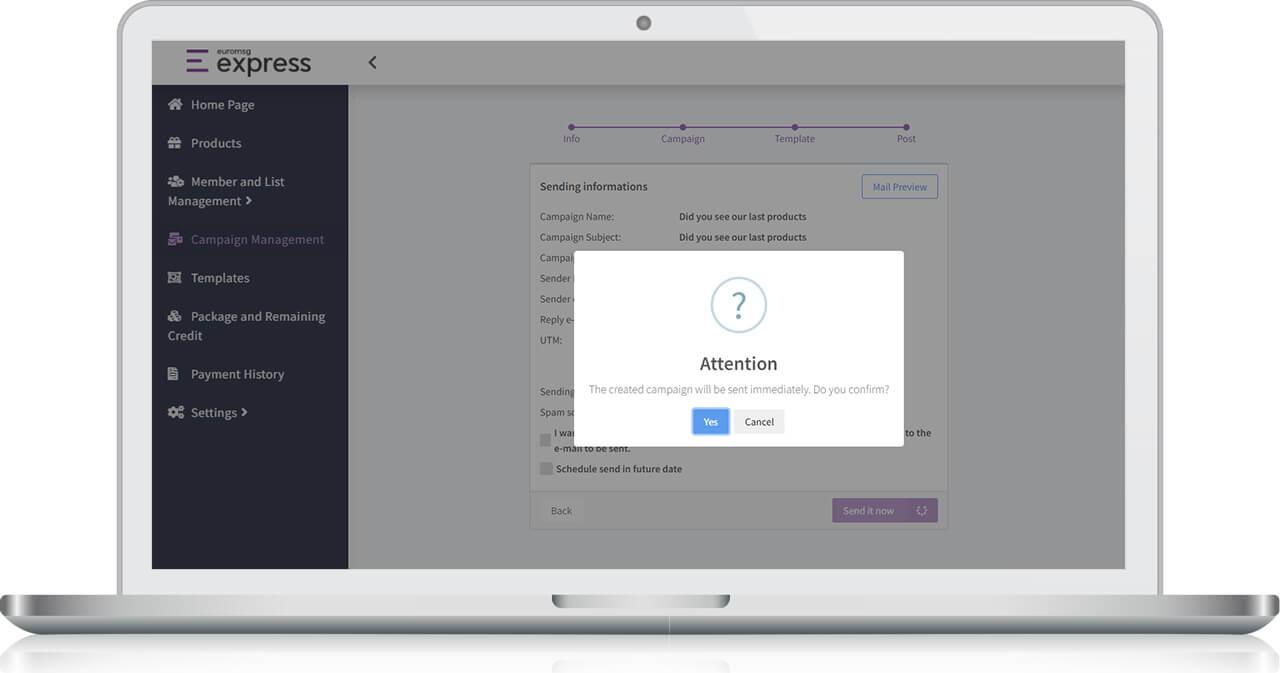 euromsg express helps you grow your brand with report viewing tools that will allow you to measure the success of your e-mail campaigns. In order to measure the success of bulk e-mails, it provides detailed reports including open/click-through rates, the number of people sent, the amount of e-mails sent, spam score and UTM data provided through Google Analytics. With the feedback you have received, you can track and analyze the success of your e-mail marketing campaigns and make them more efficient by optimizing them.
Special for SMEs and Start-ups
Let's grow your small or medium-sized business together with the self-service euromsg express!
Increase your income with e-mail campaigns with the budget-friendly euromsg express!
User Friendly, Easy-To-Use Interface
Quickly create your campaigns through euromsg express's easy-to-use panel!
It's time to catch up the new trends of digital age.
Let's start!