We are here to offer solutions that will grow your brand.
Related Digital, which has been serving more than 1500 global brands for 20 years with omnichannel marketing automation, has developed a brand new self-service e-mail marketing solution considering the demands in the market: euromsg express.
This solution that supports the development of small and medium-sized businesses, enables the preparation of bulk e-mail sending, the most effective and lowest-cost digital marketing method of today. Businesses deliver the digital campaigns they create to their current and prospective customers instantly through the panel, which supports different languages and is extremely easy to use, without the need for installation. Providing detailed reports to learn about the effects of e-mails on digital marketing activities, euromsg express makes campaign processes more efficient and makes it possible to increase turnover.
Who is the Related Digital?
Related Digital, one of Doğuş Holding's strategic technology investments, was established in 2002 as an e-mail marketing company. Following that, it transformed into Related Marketing Cloud (RMC) platform that provides an artificial intelligence aided marketing automation based on the data collected through online and offline channels, and became one of the leading companies in Turkey in the field of omnichannel digital marketing. Related Digital, which operates in 30 countries in total with 4 offices in Istanbul, Hamburg, Dubai and London and more than 150 employees; it serves over 1500 major global brands such as Estee, Lauder, Victoria's Secret, Carter's, IKEA, Marks & Spencer including domestic leading brands such as Boyner, Garanti BBVA, Akbank, Pegasus, Turkcell, Mavi and Etstur.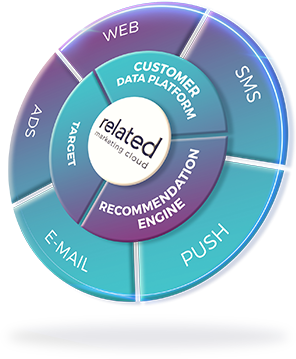 We are looking for new teammates who aspire to improve themselves constantly in a creative, collaborative and innovative environment!